Safely soothe and heal skin damaged by radiation treatment — naturally.
Maximum strength, all-in-one, natural
Herb to Soothe™ Cream
CamWell Herb to Soothe botanical cream for radiation burn skin relief is safe for all cancer survivors before, during, and after radiotherapy treatments.
Herb to Soothe™ Cream for Radiation Burn Skin Care
$24.99 (Free Shipping in Continental U.S.)
Heals skin damaged by radiation therapy.
Radiation therapy can wreak havoc on your skin.
Our oncologist-formulated, safe, non-toxic Herb to Soothe™ Cream:
Delivers gentle, powerful skin burn relief
Soothes and heals itching painful radiated areas
Relieves pain, itchiness and tenderness
Calms inflammation
Hydrates severely dry skin
Protects skin against infection
Speeds wound healing
Maintains beautiful, healthy skin throughout treatment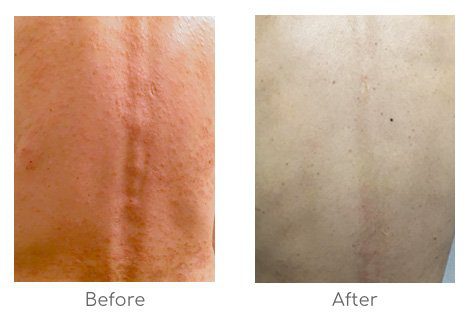 Ingredients:
Aqueous (water) extracts of a proprietary blend of Radix et Rhizoma Rhei (rhubarb root), Rhizoma Polygoni Cuspidati (giant knotweed rhizome), Cortex Dictamni (dictamnus root bark), Rhizoma Coptidis (coptis), Radix Sophorae Flavescentis (light yellow sophora root), Cortex Phellodendri Chinensis (amur cork tree bark), Medium-chain Triglycerides, Glycerol, Stearic Acid, Hexadecanol, Vitamin E, Glyceryl Monostearate, Potassium Sorbate.
ENVIRONMENTAL WORKING GROUP (EWG) SKIN DEEP RATING: #1
Directions for Use:
A little bit goes a long way. To get the maximum therapeutic benefits of this cream, a thin layer is all that's needed.
Gently apply to affected areas twice daily. Spread once and let the cream soak in on its own. No rubbing necessary.
Herb to Soothe is oncologist-formulated specifically to be safe to use during radiation therapy. There is no need to wash it off prior to treatment, however if your physician prefers that it be removed, it will still be effective.
Our creams are the color and scent of the herbs themselves - they are formulated without the use of harsh chemicals and rated as safe by the Environmental Working Group.
What's Not Inside:
What goes onto your skin matters! We take great care in sourcing and selecting all of the ingredients in our topical creams. Our oncology skin creams are hypoallergenic and contain no harsh chemicals, no artificial color, no artificial fragrance and no added steroids.
Cancer affects thousands of people worldwide each year. While radiation is one of the most successful and effective cancer treatments, it's unfortunately not without its own set of side-effects - many patients find themselves looking for types of radiation pain relief to aid with skin care after radiation therapy.
This is a mission we at CamWell take a vested interest in - our goal is to provide cancer patients with safe, effective methods of oncology skin care through the use of oncologist-formulated cream for radiation burns.
Skin Care Before, During, and After Radiation Therapy
Many patients find themselves dealing with common skin issues during and after their radiation treatments. Radiation therapy can leave your skin with a host of uncomfortable issues throughout your cancer treatment, and an estimated 95 percent of people who receive radiation therapy will find themselves dealing with some form of radiation dermatitis.
Some of the side-effects of radiation dermatitis when it comes to your skin include:
Skin redness or pinkness
Skin swelling
Dry, peeling skin
Skin that thins and weakens
Blisters or skin ulcers
These conditions can make a patient feel frustrated and lessen their quality of life. As a result, many patients look to different types of radiation cream to ease their symptoms. There are different variations of skin cream for radiation patients, but only one that delivers on all fronts.
CamWell's Herb to Soothe Cream for Radiation Skin Burn Care
CamWell's Herb to Soothe radiation burn cream is a safe, oncologist-formulated, scientifically studied, plant-based cream for radiation burns. Where other types of radiation cream fall short, CamWell delivers.
What is the Herb to Soothe Cream Made of?
The Herb to Soothe formula is comprised of medicinal herbs harvested in their natural habitats and is based on the principles of Traditional Chinese Medicine to provide safe, effective relief.
What Will the Herb to Soothe Cream Do?
CamWell's radiotherapy cream includes a host of benefits to those struggling with radiation burn care:
Gentle but powerful skin burn relief
Soothes and heals itching painful areas
Only a thin coating required - the most efficient skin cream for radiation burns
Relieves pain, itchiness and tenderness
Calms inflammation
Hydrates severely dried skin
Protects against infection
Speeds wound healing
Maintains beautiful, healthy skin throughout treatment
Hypoallergenic and natural - product contains no artificial color, fragrance, or harsh chemicals
Perhaps most importantly, CamWell's Herb to Soothe radiation relief cream is backed by scientific studies, displaying its effectiveness in ways other radiation treatment cream cannot.
A randomized study performed on patients suffering from radiation dermatitis showed the Herb to Soothe formula as an effective means of treating side-effects - 69.2 percent of patients tested displayed a complete response to the radiation treatment cream, while 25.6 percent were observed to have measured improvement over their previous symptoms.
If you find yourself suffering from the side-effects of radiation therapy - we're here to help. Don't live your life in discomfort, the team at CamWell will help you find the perfect radiation treatment lotion to improve your quality of life.